Working...

Sandy Hook Memorial at NMS
As the anniversary of the Sandy Hook tragedy is upon us, NMS remembers those precious souls, and those who will always mourn their loss.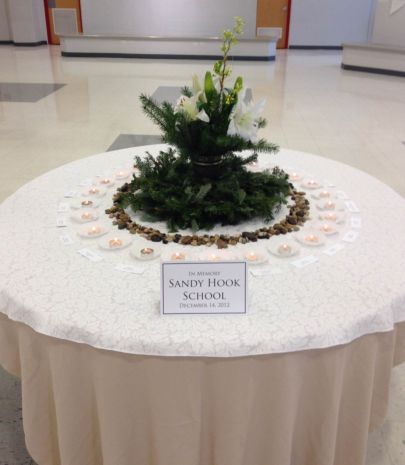 Today, on April the 25th, a white dogwood was planted in the Sandy Hook Memorial Garden. 
20 NMS students, 4 NMS teachers, NMS Principal and NMS psychologist participated in planting the tree as the rest of the staff and student body looked on. 26 stones were placed at the base of the tree, and 26 white balloons were released to honor those lost in the tragedy at Newtown. You are forever in our hearts.  
Neoga Middle School sent hugs to Sandy Hook Elementary students, staff, families, and community as they began the long process of grief and healing. After being displayed in our commons, the never ending hug was sent to the community to be used in decorating schools and churches that are hosting Sandy Hook students. 
We are dedicating the flower garden of NMS school to Sandy Hook Elementary to honor those students and colleagues that were lost in the terrible attack on Dec. 14.