TeacherEase Communication Settings & Info
The Neoga School District uses all of the communication features included in TeacherEase.
TeacherEase messages can come in 4 forms. Emails, app alerts, calls and texts. For emergency school closings, such as a snow day, all 4 can be used. The parent portal can be accessed through the web at: https://www.teacherease.com/common/login.aspx or through the TeacherEase - Parents/Students app, available through your phone's app store. The screenshot below is an app store example.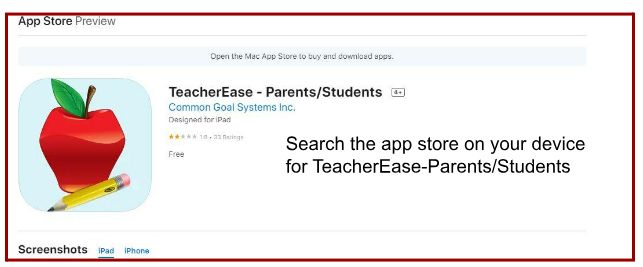 Current and Previous Announcements can be viewed in the Student/Parent Portal.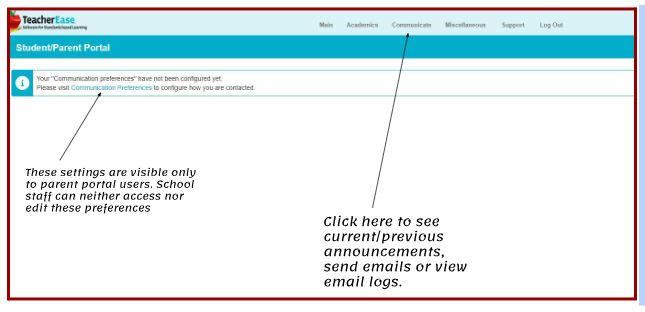 Other notifications can be changed in the portal as well. Such as lunch balance information notifications. The low lunch balance notification is an email that is automatically sent out to parents/guardians when the money in a student's lunch account drops below a certain threshold. We allow the parents/guardians to control their own settings for this notification, as many of them would like to add to the balance before the student runs out.
Parents/guardians may wish to disable these notifications since all students are receiving free school lunches. However, we recommend that parents/guardians simply change the threshold to $0.00, in case the student owes money after purchasing à la carte items or additional milk.
To control these notifications:
Go to Parent Main > Miscellaneous > Communication Preferences
Check the Low Lunch Balance notifications​
Change the Low Balance Threshold to 0.00, or disable it completely
Save
Due to FCC regulations, users of the parent portal must opt-in to receive sms notifications (text messages). To satisfy this requirement, an introductory text was sent at the beginning of the year. Users who did not opt in at that time, or otherwise missed the communication, can opt-in through the user portal. To do so:
Log in as a user, go to Parent/Student Main > Miscellaneous > Communication Preferences
Change the Text Message permission to On next to the desired announcement type
Save
If you have any questions, please feel free to call your child's school.